Concrete Pool Patio Replacement in Morris County, NJ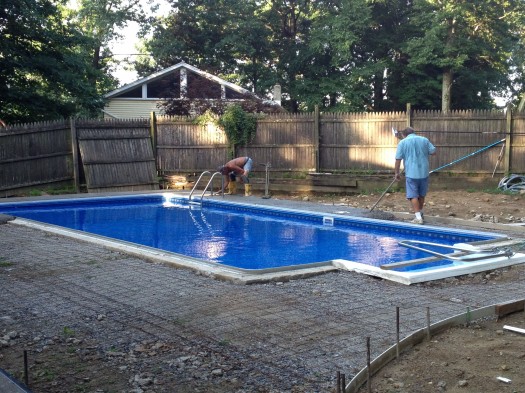 Most customers I've dealt with over the years have had a lot of anxiety when thinking about replacing there pool decks. I'm not sure why but the fact of the matter is that's it's usually a 3 day job and the damage to their lawn, pool, driveway etc. is minimal at most and by the weeks end the old patio has made it's way to the landfill and the new patio is ready for sunbathers and swimmers alike.
Another common misconception is that replacing the concrete will be too expensive.
I'm not here to say it's cheap but compared to what other methods of repair cost along with their reliability and quality, replacement becomes the most cost effective. A good estimate number to base what your patio replacement might cost is $12.00 per square foot. Of coarse this number is an estimate and factors such as accessibility, thickness and total square footage can affect the price.
A typical 4 inch, 1000 sq. ft. pool deck can be removed in one day. The process is by jackhammer and hand removal. Heavy machinery is not suitable for any concrete removal around pools.  This removal usually will be complete in one day.
The second phase is to prepare the pool for new concrete by installing concrete forms, compacting the sub base and detail work, including
Installing new anchor sockets for ladders and handrails, setting of the diving board jig, repairing all grounding that may have been damaged during the removal and so on. This is usually a one day job also. Now we're ready for some concrete.
The pouring of the new patio is actually the easiest day of the job and is also another one day project. By days end the project is complete and a few days later the beautiful new patio is ready for use.
Yes, our url is sussexcountyconcrete.com but we're J.W. Construction Company and we love Morris County.
Call us today for a free consultation or quote for your Pool Patio Replacement in Morris County, NJ