Pool Border Coping and Deck Options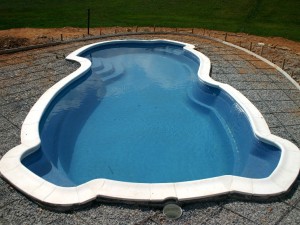 You've decided on your pool, where to put it, what shape, what size, liner and so on. Now comes the important part. What you're going to do with your pool patio and pool coping. These two considerations along with consulting and hiring a qualified contractor to complete them become enormously important. The pool coping and concrete patio around a pool can make or break a project and should not be left to the inexperienced. Overlooking your pool patio and pool coping decisions until your pool is installed will limit the options from which you have to choose.
Cantilever Pool Coping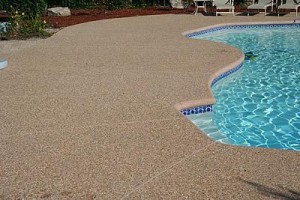 A cantilever pool coping actually eliminate the need for any kind of border coping. With a cantilever pool coping, the concrete patio itself extends approximately one inch inside your pool wall. When considering using a cantilever coping, these points need considering.
Whenever possible, the concrete and cantilever coping need to be installed BEFORE the liner and water. This ensures the highest quality.
Do not listen to your pool installer if he tells you otherwise.
When doing a cantilever pool coping on a fiberglass pool, the pool shape itself must be a consideration. There are number of fiberglass pool shapes that don't lend themselves to a quality pool coping.
More Pool Coping Options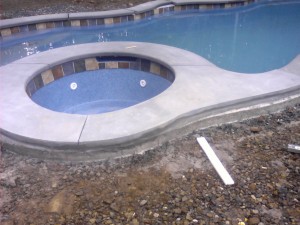 Brick, tile, stone and cantilever stamped concrete are some other pool coping options you may want to consider. Each has there advantages and appeal. They are all available on all shapes and types of pools.
Remember, planning your pool coping and patio along with the pool itself is vital to your project's success and enjoyment of your new pool.
If you live in Sussex County, NJ. or surrounding areas, feel free to contact us with any questions and concerns you may have with your pool patio and pool coping decisions. We are happy to help you!
Pool Coping and  Local Areas We Serve
Andover, Branchville, Byram, Frankford Township, Franklin, Fredon, Green Township, Hamburg, Hampton, Hardyston, Hopatcong, Lafayette, Montague, Newton, Ogdensburg, Sandyston, Sparta, Stanhope, Stillwater, Sussex, Vernon, Walpack, Wantage New Jersey.